Missing priest's father speaks out about search
Christiaan Kappes disappeared in Greece last week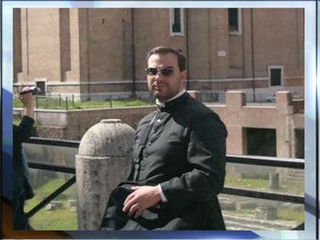 INDIANAPOLIS - The central Indiana family of missing priest Rev. Christiaan Kappes is working with the FBI and other agencies to try to locate him.
Kappes disappeared in Greece last week, after a frantic phone call to his father, Virgil Kappes, in which he said he thought his life was in danger.

There have been no major breakthroughs in the search yet, but the family is not giving up.
"It is unbelievable the way this story is unfolding, what's involved," Virgil Kappes said.
Virgil said at first search efforts were slow but two days ago the story caught the attention of the Greek media.
Since then, Christiaan Kappes' father from Franklin and other family members have been on the phone with the U.S. Ambassador, the FBI and the Arch Diocese, trying to put the clues together.
Virgil said the Kappes family is offering a $10,000 reward for information that leads to his son's recovery.
They are also asking for prayers.
"The good people of the Arch Diocese of Indianapolis will be asked in every diocese and everybody who wants for prayers. We just want justice for Father Kappes, that's the thing," Virgil Kappes said.
The Kappes family is scheduled to meet with the Arch Diocese Monday to formally ask for prayers and to decide what the next steps should be.