Truck crashes on I-465 on south side, spilling 45K pounds of dairy products on roadway
Cleanup truck also crashes on way to wreck scene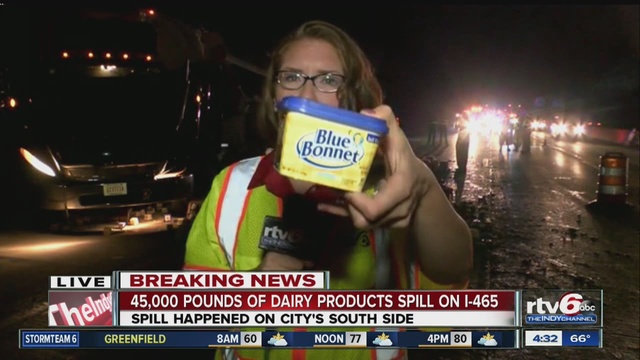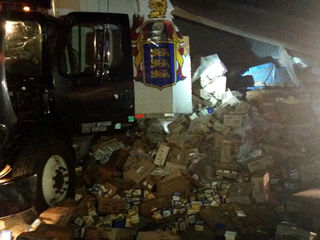 INDIANAPOLIS - Don't have a cow, but a crash on a south-side interstate spilled dairy products all over the roadway early Friday. It took roughly 8 hours to clean up.
The mess is being compared to an oil spill by some, and even worse, (update at 6:30 a.m.) we've just learned a sand truck on its way to the scene to help deal with the crash... has crashed. It rolled over on its way to the wreck from Greenwood, crews said.
Right now on @rtv6: 45,000 tons of dairy product covering I-465 on the south side. Two eastbound lanes closed. pic.twitter.com/vhWGXwUJaX

— Anne Kelly (@AnneKellyRTV6) August 1, 2014
RTV6 was the first news crew to arrive at the initial crash, and you can see from our photos, it was quite a scene.
Indiana State Police (ISP) confirmed a truck had crashed at roughly 3:30 a.m. on eastbound Interstate 465 between U.S. Highway 31 South and Interstate 65. (See map below.)
Some days you cover shootings, other days you cover 45k lbs of dairy dumped on the interstate. Live report in 5 min. pic.twitter.com/Y17Mv3u7DK

— Anne Kelly (@AnneKellyRTV6) August 1, 2014
RTV6's Anne Kelly arrived at the crash to find packages of butter-substitute, whipped cream and other dairy products had spilled everywhere. We're told roughly 45,000 pounds were spilled.
Kelly said she had to roll up her pant legs from the mess. Crews said the butter smeared on the interstate was actually similar to an oil spill, it was so slick.
Seriously, butter is everywhere. On me, on my equipment. May need to shower over my lunch break. pic.twitter.com/dgbnr2tCip

— Anne Kelly (@AnneKellyRTV6) August 1, 2014
ISP said the driver of the truck admitted had fallen asleep and his truck hit a barrier and crashed. He and his passenger were uninjured, we're told.
By 6:30 a.m., workers were spreading a substance called Oil-Dri, which is meant to soak up the mess. The roadway was completely opened back up at roughly 11:30 a.m. Friday.
Can't see our map? Tap or click here.