Mourdock tries to distance self from tea party in debate with Donnelly, Horning
Donnelly pushes compromise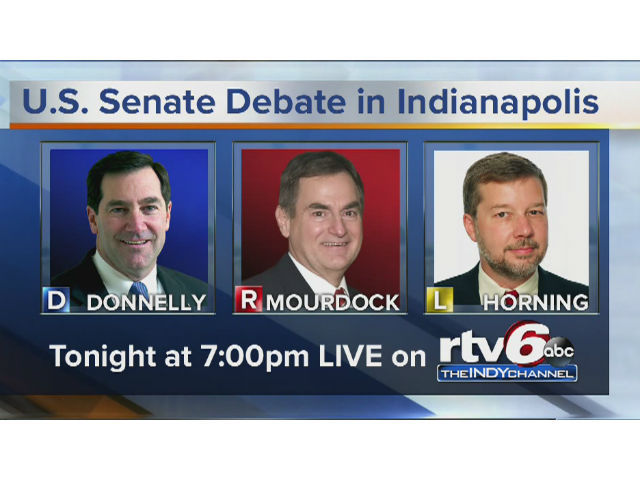 INDIANAPOLIS -
Sharp words flew at Monday's senate debate. The three candidates pounded each other over issues ranging from social security and Medicare to taxes and the national debt.
Democrat Joe Donnelly struck the first sharp blow, ripping into Republican Richard Mourdock for his Tea Party connections.
"Your principle is an unapologetic leader of the Tea Party movement. And that's fine," Donnelly said. "I would rather make sure that we can work together in Washington and in Indiana to move our country forward."
Mourdock tried to distance himself from the tea party, questioning the label and saying he's run as a Republican.
Mourdock fired right back to try and paint Donnelly as a big-spending liberal.
"I don't know that label of being the unapologetic Tea Party leader, since I've been elected as a Republican on a number of occasions," Mourdock said. "But the simple fact is, the Obama-Donnelly agenda, the Harry Reid agenda, that continues to put money into huge government bureaucracies without accountability is in error."
Libertarian Andy Horning said voters should elect him to avoid more of what had just gone on.
"I think you've seen between the two on my right exactly what's going to happen if you vote status quo again," Horning said. "It's always going to be a tug of war, and you're always going to lose."
Mourdock also is fighting his portrayal by Donnelly as a partisan politician. In response to a question, he says he's worked with Democrats to set up a college savings plan for Indiana parents.
Donnelly says he's worked with Republican colleagues on a veterans center in South Bend and to keep Air Force fighter jets in Fort Wayne.
Mourdock and Donnelly also clashed over Social Security and Medicare, with Mourdock denying he had ever said those programs are unconstitutional.
"I know Mr. Donnelly's tried to make the point, tried to attack me because I was once asked if in fact the Constitution included the words Social Security and Medicare, and clearly it does not," Mourdock said. "And I gave that answer, and he runs that in a news clip or a commercial rather to make it sound like I believe the idea of Social Security is unconstitutional. And, Joe, you know I've never said that."
"When you meet with the Madison Tea Party and you say to them, 'You show me where in the Constitution it allows Medicare, and you show me where in the Constitution it allows Social Security,' we're not that dumb. We know what you were implying," Donnelly rebutted.
Indiana's Senate battle is one of a handful of tight races that will decide whether Democrats or Republicans control the Senate.
A Rasmussen poll just out Monday showed Mourdock leading Donnelly by five points, the biggest margin any public poll has shown between the candidates in months.