Muncie police investigate rash of armed robberies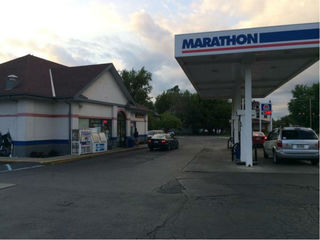 MUNCIE, Ind. - Muncie police were investigating a string of armed robberies after three gas stations were targeted in three nights.
The owners and managers of the stations described the terrifying moments that were caught on their own surveillance cameras.
On what was an otherwise quiet Sunday night, an unexpected visitor walked through the front door to the Marathon gas station on Dr. Martin Luther King Drive around 10:30 p.m.
Surveillance video captured the robbery suspect in and out of the building in less than a minute. The man got away with between $800 and $900.
Nobody was injured, but the incident has shaken up the entire staff.
It was unclear if he was the same person who held up two other gas stations -- one on Monday night and another overnight Tuesday -- all within about a two-mile radius.
The robber stole $1,600 from a BP gas station Monday and got away with $300 after holding a gun to a cashier's head around midnight Wednesday at a Marathon station on East Main Street.
Officers with the Muncie Police Department couldn't confirm further details on the crimes, but said they were continuing to investigate.
Call police with any information at 765-747-4838 or submit an anonymous tip online at munciepolice.org.