New Kokomo memorial honors families of military
Memorial expected to be complete next summer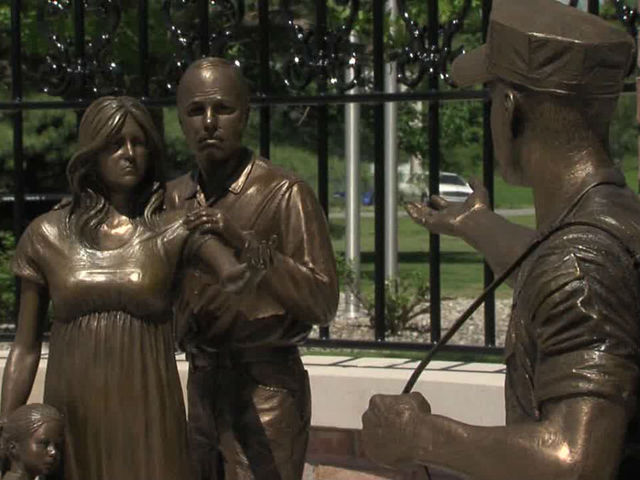 KOKOMO, Ind. - A first-of-its-kind memorial in the State of Indiana will honor parents, spouses and children of military members who have served overseas.
Jerry Paul knows about war. The U.S. Army veteran fought in Vietnam, but back in Kokomo, he has been fighting a different battle -- one that is close to his heart.
Paul and a small group of veterans are building something new onto the existing Howard County Veterans Memorial that will honor the families of all those who have served. The new project has been named the Families Statue Memorial.
"I know in Indiana there's nothing like it. This is going to be the first time that us veterans have dedicated a memorial to our families," Paul said.
The statues being made right now will be slightly larger than life. The woman represents every woman, mother and wife -- the little girl represents every child left behind during war.

The statues will stand far apart on the site to symbolize the distance between families and their loved ones overseas.
The project will cost about $300,000 total. Paul has raised about two-thirds of the money so far, mostly through donations.
"We've had people put $100 bills in the donation jar. A little kid put his allowance in there. One guy had $3 left and he felt embarrassed but he wanted to do something. And those are the people who will get this monument done," Paul said.
This soldier who came back to a hostile nation wants to make sure no other service member or service member's family is ever forgotten.
"Just came home and went back to work. Didn't talk about Vietnam. Nobody cared. Nobody wanted to hear about it," Paul said. "Here's the thing about being a veteran. You can't not be proud. Because not everybody can be a veteran, you've got to earn that title."
It is expected to take about another year to finish fundraising and complete the project. Paul hopes to be able to dedicate the new memorial by next summer.
The group is also working to get roads leading to the memorial renamed in honor of Gold Star and Blue Star Families.
For more information about the memorial and fundraising efforts click here -- http://bit.ly/1icb97s
Follow Tanya Spencer on Twitter: @tanyaspencer6 | Facebook: Tanya Spencer