NTSB: Engine making 'popping' sounds before fatal Greenwood plane crash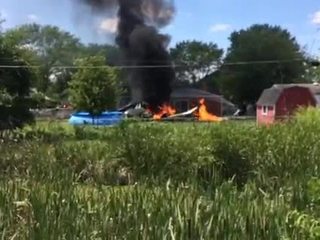 INDIANAPOLIS - A private airplane involved in a fatal crash in Greenwood this month was making "popping" sounds during and after takeoff, according to a report released Thursday.
In the preliminary report, National Transportation Safety Board investigators say witnesses told them the Mooney M20M aircraft was making "popping" noises like the engine was misfiring directly before the July 11 crash that killed pilot William Gilliland and injured co-pilot Michael Joseph Elliott.
According to the NTSB's report, two witnesses said they saw the airplane trailing blue smoke during its takeoff ground run.
"These witnesses also described the sound of the engine as 'popping,' 'misfiring,' and as if there were ball bearings inside the engine," the report says.
Witnesses also told investigators the plane was "wallowing" before it reached a maximum altitude of 100 to 150 feet above the ground.
Gilliland, 46, of Greenwood, had 14 years of flying experience. He was traveling to East Texas Regional Airport in Longview, Texas, to receive instrument flight instruction.