Pain of losing officers crosses department lines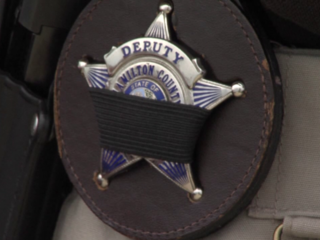 INDIANAPOLIS - In the course of eight days, three Indiana law enforcement officers were lost from three different police agencies, but officers all across central Indiana felt the sting.
"Having these three deaths come so close together has made the impact even bigger on all the departments across the state," Madison County Sheriff Ron Richardson said.
This week Metro police are preparing to bury Officer Perry Renn, who died in a shootout Saturday.
Hours later, Gary Officer Jeffery Westerfield died, also shot while on duty.
The weekend before that, Tipton Sheriff's Deputy Jacob Calvin died after he crashed his patrol car while speeding to a scene.
Hamilton County Deputy Bryant Orem said he was at Calvin's visitation Sunday when he learned about the deaths of officers Renn and Westerfield.
"On average, Indiana has two line of duty deaths every year, so to have three in the space of just a little over a week, you know, it's an incredibly painful experience," Orem said.
But for local law enforcement, losing a colleague is also a chance to learn.
Hamilton County and other agencies plan to dissect each incident carefully in hopes of training new and veteran officers.
"We don't want to 'Monday morning quarterback' anybody and try to guess what they might have done wrong, but we try to take any specifics that we can learn from an incident such as this," Orem said.
Richardson said it'll be similar in Madison County.
"You do try to go through with different trainings, and that's why our firearms officers adapt our training to things that are going on in the community," he said.