George suffers serious leg injury in US exhibition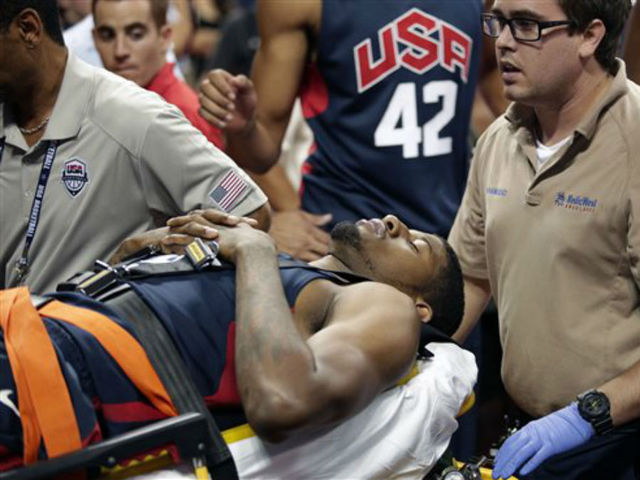 LAS VEGAS - Indiana Pacers All-Star Paul George suffered a gruesome right leg injury late in the U.S. national team's intrasquad scrimmage Friday night.
George leaped to contest a fast-break layup by James Harden with 9:33 left in the fourth quarter and his leg smashed against the bottom of the backboard stanchion.
Trainers immediately ran onto the floor and after roughly 10 minutes of stoppage, George was taken out of the arena on a stretcher. With players looking visibly upset, coach Mike Krzyzewski then announced to the crowd that the scrimmage would not be finished.
"There's no way the game could have gone on under the circumstances," USA Basketball chairman Jerry Colangelo said.
On Saturday, the @TheNBACentral Twitter account tweeted out a photo purportedly of an x-ray of George's leg.
An X-Ray of Paul George's leg. pic.twitter.com/CqnZkwDry3

— NBA Central (@TheNBACentral) August 2, 2014
While the photo quickly went viral, many respondents noted it looked nearly identical to a photo tweeted out by CNN correspondent Dr. Sanjay Gupta following a similar injury sustained in 2013 by then-Louisville Cardinals player Kevin Ware.
take a look at this xray. this is the type of injury kevin ware suffered last night. i'll explain @ac360 830p E http://t.co/o7QkXAK9zI

— Dr. Sanjay Gupta (@drsanjaygupta) April 2, 2013
A representative for George was not immediately available to confirm the veracity of NBA Central's tweet.
George was considered a lock to make the final 12-man roster for the World Cup of Basketball that starts later this month in Spain.
The Americans planned to reduce the 20-play pool to 14 or 15 players Saturday, but put off those plans after George's injury.
"Everything's on hold right and it should be," Krzyzewski said. "It would be so inappropriate for us to talk about anything else when there's a serious injury like this."
Pacers President of Basketball Operations Larry Bird released the following statement:
"We are aware of the injury sustained by Paul George in Friday night's Team USA game in Las Vegas and we are obviously greatly concerned. At this time our thoughts and prayers are with Paul. We are still gathering details and will have an updated statement Saturday."
George sent a tweet about two hours after the incident.
Thanks everybody for the love and support.. I'll be ok and be back better than ever!!! Love y'all!! #YoungTrece

— Paul George (@Paul_George24) August 2, 2014
Social media erupted after the injury Friday evening.
Our thoughts are with Paul George and hoping for a speedy and full recovery.

— ESPN (@espn) August 2, 2014
Just got home and watched the Paul George highlight, kid hang in there, always light at the end of any dark tunnel!! #GetWell #Pacers4Life

— Reggie Miller (@ReggieMillerTNT) August 2, 2014
It's hard to get out of your mind, seeing Paul George tonight. @BradBrownTV will have the latest at 11 @rtv6

— Todd Connor (@ToddConnor6) August 2, 2014
"Our primary concern is Paul George." - Jerry Colangelo. Adds roster moves seem unimportant when something like this happens.

— NBA on ESPN (@ESPNNBA) August 2, 2014
Sorry to see what happened to @Paul_George24 tonight. We are thinking of you! #BoilerNation has your back! #StrongerThanEver

— Purdue Basketball (@BoilerBall) August 2, 2014
August 2, 2014
@paul_george24 praying for you bro

— Lance Stephenson (@StephensonLance) August 2, 2014
Watch RTV6 and refresh this page for updates.