No restrictions of plastic bag use under bill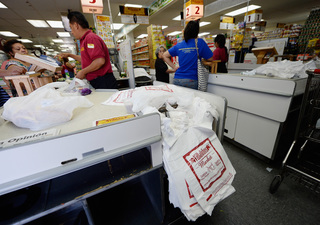 INDIANAPOLIS -- A bill that's drawing attention in Indiana is now headed to Gov. Mike Pence to sign.
House Bill 1053 would make it illegal for local governments to tax or restrict any bags, boxes, cups or bottles made of cloth, paper or plastic. It's gained attention as the "plastic bag bill."
California passed a statewide ban on plastic bags for large grocery stores, citing environmental concerns. However, the law is on hold until at least November. Stores would be required to offer recycled paper bags for about 10 cents.
About one trillion plastic bags are used each year worldwide, according to reuseit.com, a pro-recycling resource. Reuseit recommends using reusable shopping bags and not instituting a plastic bag ban.
The bill passed both chambers of the General Assembly, going through the Indiana Senate 38-12.
Gov. Pence has not made a public indication on whether or not he will sign the bill.
-----
Download the new and improved RTV6 app to get the latest news on the go and receive alerts to your phone
Sign up to have the latest news headlines delivered straight to your email inbox