Family to continue search for missing baby
Police drain tank, find no sign of missing baby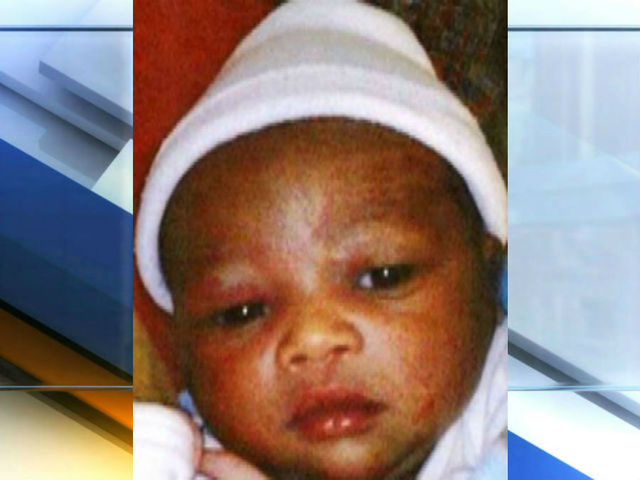 INDIANAPOLIS - The family of a missing infant continued their search Sunday as Indianapolis police asked for the public's to bring the baby home.
Sgt. Kendale Adams said Saturday that additional searches will only be conducted for missing 6-week-old Delano Wilson if there's a significant tip or development in the case.
In response, Wilson's family planned to continue their own search at noon near the train tracks by the intersection of Oliver and Harding Streets.
Just one day earlier, family and community members gathered for a prayer vigil for the missing child.
"Every minute is critical and every second that he's gone gets harder and harder, but we're staying strong so we can get him back," said the child's great aunt Lethrice Hamilton.
Neighbor Allen Pugh said his family has searched yards, ditches and abandoned properties since learning of the baby's disappearance.
"That baby has to be somewhere," Pugh said. "Somebody knows something. It's … what's the world coming to?"
Wilson's family was asking for volunteers to assist in continuing the search effort on Sunday.
"This is a helpless baby," Hamilton said. "He can't speak for himself, he can't fend for himself, he can't pick up a phone or dial a number. He can't do anything, so it's up to us to do it for him."
Search-and-rescue mission
Police said they were treating the hunt for a missing Indianapolis infant Saturday as a search-and-rescue mission, with efforts including draining an old underground cistern in a wooded area near where the child disappeared.
An Amber Alert went out for 6-week-old Delano Wilson about 9 p.m. Wednesday, some eight hours after 23-year-old Willie Wilson told police his son had been abducted by a man and woman who knocked him out in an alley near his home just west of downtown Indianapolis.
Indiana State Police canceled the Amber Alert at the request of IMPD on Friday evening just before 7 p.m. Detectives believe the alert raised sufficient awareness about the missing child and his alleged abduction.
When the alert was first issued, detectives received numerous tips, but over the past six hours, police said they only received two calls.
"The cancelation of the Amber Alert has no bearing on the active investigation into Delano's abduction. IMPD will continue to use all necessary resources and techniques to bring Delano back home," police said in a statement.
Police have not said they have any reason to doubt Wilson's statements, though they said Friday they were "checking" his account of what happened.
"We look into every story, and we run down leads, and we verify facts. That's what we do," Police Chief Rick Hite said.
The rattle and clang of passing garbage trucks filled the industrial area adjacent to the dense woods just off Interstate 70 on Friday afternoon. Rain fell as searchers scoured the area and police dogs sniffed for any sign of the missing infant.
The area is crisscrossed with busy streets, railroads and waterways. Police said CSX had agreed to stop rail traffic there during the search.
Indianapolis police Sgt. Kendale Adams said all that the searchers had found while using a grid pattern in the woods so far was trash and the old tank, from which police pumped out some of the water and searched it with a camera but found no signs of the baby.
Adams said police still regarded the case as a search-and-rescue operation. About 45 police recruits were aiding in the search and the FBI is assisting with the investigation, he said.
No leads brought police to the woods, Adams said.
"Obviously, being this close to the house, it is just an investigative area that we naturally would search," he said. "Right now, we're just hopeful that we're able to find this baby, and find him safely."
Adams estimated that about 90 percent of the neighborhood where the baby was reported missing had been searched as of late Friday afternoon.
Family members had posted fliers throughout the area asking for information leading to Delano, and another family member had offered a $10,000 reward. Delano's photo and description were also posted on the website of the National Center for Missing and Exploited Children.
The Wednesday Amber Alert said the child is considered in extreme danger and that the infant was last seen with a white man and a Hispanic woman in an early 2000s blue Ford Taurus car.
Wilson told police he was carrying the baby just west of downtown Indianapolis about noon Wednesday when he was approached by the man and woman. He said the man pointed a gun at him and hit him in the head with the weapon, causing him to briefly lose consciousness. When he awoke, he said he saw the woman carrying the baby to the car, according to police.
Adams said Wilson had no visible signs of injury.
Police arrested Wilson on Wednesday night on an unrelated drug charge, and he was released from jail the next day.