Police: Man turns tables on intruders, scuffle leaves 1 in critical condition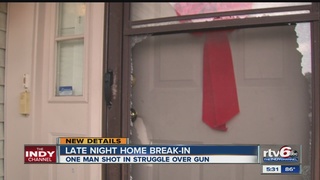 INDIANAPOLIS - One shooting, two crime scenes. Police confirmed a man with gunshot wounds found in a parking lot of a gas station was most likely one of the men who broke into an east-side home in a robbery attempt.
Indianapolis police (IMPD) said just after 3 a.m. Friday, a man was found in the parking lot of the Circle K near 25th Street and Post Road (see our map) with gunshot wounds to his leg and back. He was taken to Eskenazi Health in critical condition.
Police said one hour before that, officers had responded to a call of shots fired at a home on Dedham Drive, just a few blocks away from the Circle K. (See map below.)
Police said a man, a woman and a small child live in the home. The man told police three men knocked on his door and then pushed their way in, at least one of them armed with a gun. The man said there was a struggle in which he never got full control of the gun, but during the scuffle, the gun went off and hit one of the intruders.
The men got away and no gun has been recovered yet.
IMPD found the description of that intruder matched the man discovered with gunshot wounds at the Circle K.
There is no word yet on any other intruders. Police have not yet identified the man who was shot. Investigators are now taking a look at surveillance video from the Circle K in hopes they'll be able to identify the two other intruders.
Watch RTV6 and check back here for developments.
Can't see our map? Tap or click here.