7 injured, 1 critically, in mass shooting in Broad Ripple
Person of interest taken into custody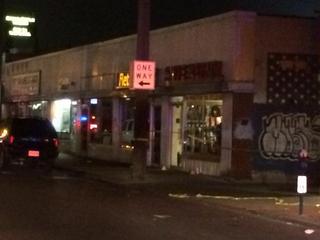 INDIANAPOLIS - Seven people were injured, one critically, in a mass shooting in Broad Ripple early Saturday morning.
The shooting happened about 2:20 a.m. outside a shoe repair shop in the 700 block of Broad Ripple Avenue, between College and Carrollton avenues.
The victims, six men and one woman, ran into an alley between two banks across the street, trying to flee the gunfire.
One victim was treated and released at the scene. The critically injured man was being treated at St. Vincent Hospital.
Injuries to the other victims were not considered life-threatening, police said.
Police arrested 23-year-old Lawrence Jones on charges of possessing a handgun without a license as a felon, but did not identify him as the suspected shooter.
The seven victims of the shooting were identified Saturday as 28-year-old Antell Garnett, 23-year-old Duran Simmons, 23-year-old Betty Jean Antwi, 23-year-old Dontay Harris, 23-year-old Marcus Clayton, 26-year-old Joshua Kyner, and 23-year-old Stacy Lamont Griffin, all of Indianapolis
A large contingent of Indianapolis police officers and emergency medical crews responded to the scene and were trying to sort out details of what led to the shooting.
By the time officers got there, most of the witnesses had left, but they were questioning victims at hospitals.
"I've been told there were quite a few people out walking around Broad Ripple Avenue on a typical Friday night, bouncing from bar to bar," said Indianapolis police Lt. Chris Bailey. "Someone opens fire in a crowd like that, we're lucky more people weren't hurt."
Investigators are not sure about the circumstances of the shooting or whether the shooter knew the victims.
"We don't know what precipitated any of this," Bailey said.
Witness Describes Chaotic Scene
A man who was in the area of the shooting at the time said he saw a group of people get into a fight before shots were fired.
He described the scene as chaotic, with people running in all directions.
"There was a lot of commotion, a lot of chaos. People were running in all different directions to get away from the gunfire," said witness David Bradshaw. "There was multiple people on the ground. People were running to tend to them. We were trying to gather paper towels to cover up wounds. Officers were in mass chaos trying to find the person with the gun."
Other residents said they weren't surprised to hear about the shooting.
"People are going to come out here and be wild if they need to be," one man said. "It's becoming a bad area."
"Indianapolis is supposed to be a place of opportunity for lots of people, and it's kind of sad that now when you come here, you can't enjoy yourself and enjoy your time … without worrying about, 'I can't go outside without worrying about what's going to happen to me.'"
Broad Ripple Avenue was shut down between College and Guilford avenues as police combed a large area for evidence.
Police said extra officers were in the Broad Ripple area Friday night and Saturday morning because of the crowds expected during the Fourth of July holiday.
The Chase Bank branch near where the victims ran to escape gunfire was closed Saturday morning.
Safety officials respond to shooting
In a press conference Saturday afternoon, IMPD Chief Rick Hite and Public Safety Director Tony Riggs said the city is taking the violence seriously.
"We are a police department dedicated to making sure open spaces are safe spaces," Hite said. "Bad guys with guns are not welcome in Indianapolis. They have to go to jail."
Riggs and Hite said police now believe the shooting stemmed from an altercation after two people bumped into one another, either on the sidewalk or inside a bar.
"If it was a spill-out from a bar, we want to know which bar it was," Riggs said. "Someone had to see them arguing before this occurred."
Crime has been a growing problem in Broad Ripple in recent years, much of it involving burglaries and robberies of people visiting bars during the evening and early-morning hours.
"We're going to have to have a firm discussion with any businesses that have violence that spills out," Riggs said.
The Broad Ripple shooting was part of a violent morning in Indianapolis, with a woman and girl injured in a separate shooting on the city's east side.
Police asked anyone with information on either shooting to call Crime Stoppers at 317-262-TIPS.
"Given the proximity of the shots fired, understandably people scattered," Hite said. "Now that it's a day later, people have had time to calm down. We want them to come forward, tell us what they saw."
Watch RTV6 and refresh this page for updates.