Prayer services held for missing Indiana priest Christaan Kappes
Christaan Kappes reported missing in Greece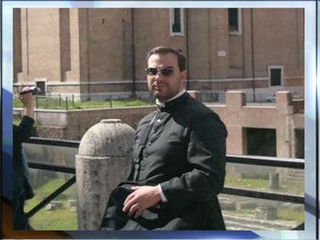 INDIANAPOLIS - A Catholic priest from Beech Grove who has been reported missing in Greece visited the embassy shortly before he was last seen, state department officials said.
The Rev. Christiaan Kappes was reported missing in Athens earlier this week.
Kappes called his family a few days before and told them if they didn't hear back from him in 12 to 24 hours, he would be dead, relatives said.
U.S. Department of State spokeswoman Victoria Nuland said agency officials had searched hospitals, hotels, airports and prisons in search of Kappes.
She confirmed that Kappes visited the U.S. embassy in Athens the day he was reported missing.
"He did not himself request safe haven. While a consular officer was on the phone with one of his family members discussing options to ensure his safety, Mr. Kappes himself got up and departed the embassy, and we don't know where he went," Nuland said.
According to an article in the Archdiocese of Indianapolis Newspaper, Kappes went to Greece three years ago to study.
Prayer services were held at 1:30 p.m. on Thursday at Holy Name Catholic Church in Beech Grove.
Watch RTV6 and refresh this page for updates.