Richmond attack leaves woman shot, toddler bound with duct tape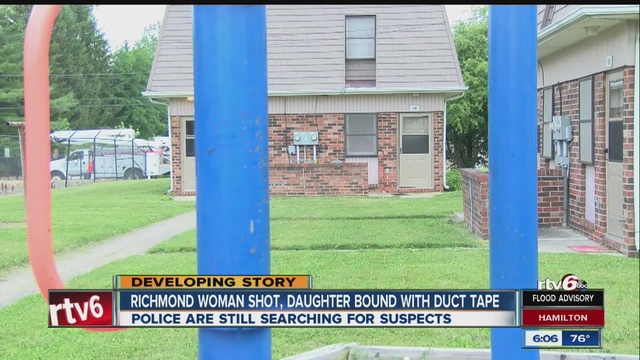 RICHMOND, Ind. - Police say a woman was shot in the face and a toddler was bound with duct tape during an apparent violent break-in at an eastern Indiana apartment complex.
Richmond police say the shooting was reported Tuesday night at the Robert F. Smith Apartments on the city's north side.
Police tell the Palladium-Item that complex resident 22-year-old Christina Hampton was taken by helicopter to an Indianapolis hospital for treatment.
"They reconstructed her elbow. They can't operate on her face until the swelling goes down, and you know, they got to run more tests before they can do anything," a family member said.
Family members were shocked that Hampton's daughter was tied up with duct tape.
"You don't do that to a baby. You do that to these criminals out here, but not to an innocent baby. That baby couldn't even identify these people," Hampton's aunt said.
Family at the scene said the child was with her father.
Capt. James Branum says neighbors reported seeing two men leave the apartment after the sound of several gunshots.
No arrests were reported and officers and a police dog searched the area around the apartment. Anyone with information is asked to call 765-983-7247.