Schools use everyday errands to better teach English as a second language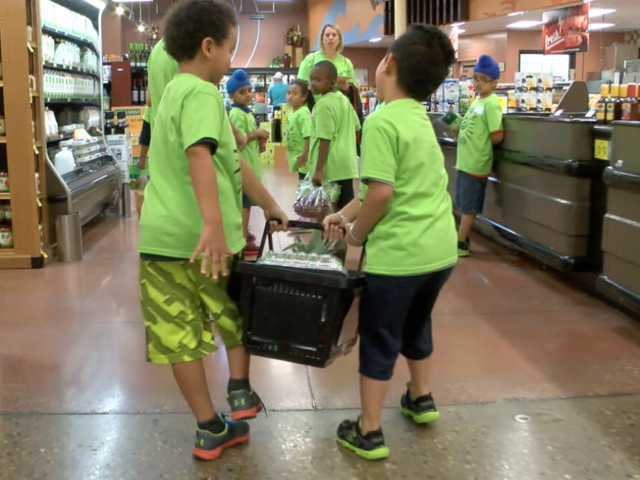 HENDRICKS COUNTY, Ind. – Thousands of kids across central Indiana go back to school in just three weeks. It can be a time of excitement and anxiety – anxiety for those who don't speak English fluently.
One district has come up with a new program to get those kids prepared, and some believe the plan needs to go statewide.
In Indiana alone, there are nearly 58,000 kids who speak English as a second language (ESL). Some of those kids speak very little, at that. 394 of those kids attend school in Avon, which – one shopping field trip at a time – has come up with a unique way of getting them ready for the school year.
Some danced in the aisles, others touched everything in sight: 35 first- and second-graders clad in bright green shirts took over the Avon Kroger this week. One fruit and vegetable at a time, they learned more about the English language.
This trip is part of a new week-long effort from Avon Community School Corporation, which is being called "C.O.O.L. Camp," with that "COOL" standing for "Community Outings for Oral Language."
It's a camp focused on the students struggling with our language the most, getting them ready for the start of school. To make the week even more special, the kids (who speak seven different languages among them) have each been paired with the teacher they're assigned for this coming school year.
"They're just being immersed in the language, which I think we all know is the best thing for them," Sycamore Elementary second-grade teacher Mandy Walton said. "It's not as overwhelming as walking into a classroom of 20 to 30 students. It's a shame this isn't done all the time."
ESL kids – who could benefit from a program like this – are in every district across the state, making up 5.5 percent of the student population.
"It's really a melting pot in our community," Walton said. "So we have to be aware of all levels of need."
Avon school officials stress this project couldn't have been done alone. It was all made possible by a $25,000 grant from the Duke Energy Foundation.
-----
Follow Anne Kelly on Twitter: @annekellyrtv6 | Facebook: AnneKellyRTV6