Several injured in 2-car crash on city's NE side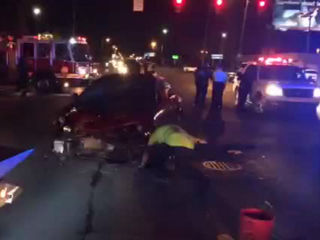 INDIANAPOLIS - Several people were injured in a two-vehicle accident on the city's northeast side Friday night.
The accident happened at East 46th Street and Keystone Avenue, near the Indiana State Fairgrounds, just after 9:30 p.m., officials with the Indianapolis Fire Department said.
Police said a family of five, including 5-year-old triplets, was in a van heading south on Keystone Avenue.
A Kia driving north on Keystone Avenue turned left into the van while attempting to go to CVS, witnesses told authorities.
The family of five went to the hospital to be checked out, but police said their injuries were not believed to be serious.
One person from the Kia was also taken to the hospital in good condition.
Officials with Indianapolis Metropolitan Police Department were investigating.
Watch RTV6 and refresh this page for updates.