Sewer worker finds class ring missing since 1966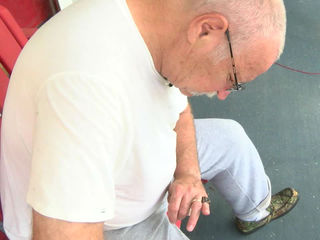 ANDERSON, Ind. - After years of working for Anderson's sewer department, foreman Rich Kelley thought he had seen just about everything.
But his most recent discovery -- an Anderson High School class ring from 1966 -- was definitely something new.
Unbelievably, Kelley was able to track down the ring's owner, Anderson resident Ronnie Siefert, who got the surprise of a lifetime.
The story began on Third Street in Anderson after a basement flooded and the residents needed help with a water line. Kelley said fixing the water line damaged a sewer line, so his team was called in. They replaced the sewer line and, like they always do, vacuumed out all the debris before leaving.
This time, though, a glimmer in the pile of debris caught Kelley's eye.
"It sort of rolled out on top of the pile," he said. "It was really dirty, you could tell it had been down there awhile, but you could still see the gold shining through."
What he found was an old high school ring inscribed with a date of 1966 and the initials of R.S.
"I really didn't think we would find the owner," Kelley told The Herald Bulletin (http://bit.ly/1kXTVzH ). "I visited the ring maker's website, and they have literally hundreds of found rings they can't find owners for."
But Kelley still wanted to make an effort, so he posted a picture of the ring on Facebook, where Dan Simmons saw it. Armed with the date and initials, Simmons pulled out an old AHS yearbook and called the first person with the initials of R.S. He struck gold on the first call when Siefert answered the phone.
"It was surprising that the first person we called turned out to be the owner," Simmons said. "He said he hadn't seen that ring in 40 years."
Simmons put Kelley in touch with Siefert, and the owner was in possession of the ring 24 hours after it once again saw the light of day.
Siefert could not be reached for comment, but Kelley said the veteran of the armed services seemed overwhelmed to finally see the ring after all these years.
"His ex-wife lost it many years ago," Kelley said. "You could tell it was a little emotional for him."
Kelley said in his years working in the sewers he's seen just about everything imaginable from pieces of a Jeep to a hot water heater.
"Usually, we don't find anything people actually want back," he said with a laugh. "This was definitely a cool experience."
------
Information from: The Herald Bulletin, http://www.theheraldbulletin.com