Subway Jared investigation: Jared Fogle pleads guilty to child porn, sex with minors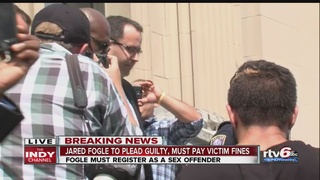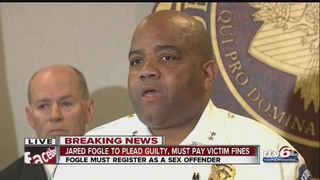 INDIANAPOLIS -- Former Subway spokesman Jared Fogle pleaded guilty to child exploitation and distributing child pornography Wednesday morning in a federal courthouse in Indianapolis.
Prosecutors say there were 14 victims in total, of whom Fogle obtained and distributed inappropriate images and videos of or paid for sex with.
As part of the plea deal, Fogle admitted to receiving visual depictions of minors engaging in sexually explicit conduct between 2011 and April 2015. None of the minors in the depictions were aware they were being filmed.
Fogle also admitted to traveling to New York City for sex with at least two minors between 2010 and February 2013. The acts occurred in The Plaza Hotel and The Ritz Carlton Hotel with a 17-year-old and a 16-year-old.
He also sent text messages to escorts, asking for access to minors ages 14 or 15.
Fogle, 37, offered a 17-year-old girl money to find an underage girl and "stated that he would accept a 16-year-old girl, while stating that the younger the girl, the better," his plea agreement read.
At the hearing, Fogle waived his right to a formal indictment by a grant jury. The case will now go before a district judge for sentencing consideration. As part of his plea deal, Fogle will receive no less than five years of imprisonment, and no more than 12.5 years.
Fogle was released under electronic monitoring. No date has been set for the next hearing.
As part of the plea deal Fogle signed, he must pay the victims $1.4 million, with each of the 14 receiving $100,000. He will also have to register as a sex offender and seek treatment for a sexual disorder.
The prosecutors say Fogle received multiple images and videos, some of which were taken by former Jared Foundation president Russell Taylor with a video camera hidden in a clock radio that filmed children changing clothes or bathing.
Taylor lost his job after he was arrested in May. Investigators said they found hidden cameras and 400 videos of child pornography on computers in his home.
Prosecutors say Fogle knew what Taylor was doing when he was arrested.
"Fame will not hide you," Indiana State Police superintendent said Doug Carter said.
The U.S. Attorney said 159,634 text messages, 27,140 emails, 47,623 images and 3,394 videos were examined as part of the investigation.
The documents say Fogle knew those depicted were minors, some as young as 6 years old, and in some cases knew the minors involved by name and had met them "during social events in Indiana."
After his hearing, Fogle's attorney said Fogle is accepting responsibility for what he has done.
"He is also volunteering to make restitution to those affected by his deplorable behavior. While Jared fully recognizes that such monetary contribution will not undo the harm he has caused, he is hopeful it will assist these individuals as they try to move forward with their lives."
"Obviously, I am extremely shocked and disappointed by the recent developments involving Jared. I am in the process of seeking a dissolution of the marriage. My focus is exclusively on the well-being of my children."
VIDEO | Watch Fogle leave the courthouse in the video player above
TIMELINE | Jared Fogle's rise to weight-loss fame
Subway issued the following statement via Twitter Wednesday:
Jared Fogle's actions are inexcusable and do not represent our brand's values. We had already ended our relationship with Jared.

— SUBWAY® (@SUBWAY) August 19, 2015
Federal, state and local investigators -- including the Internet Crimes Against Children Task Force -- descended on Fogle's Zionsville home in July.
PHOTOS | Authorities raid home of Subway spokesperson Jared Fogle
PREVIOUS | Despite fame, Jared Fogle maintained roots in central Indiana
This is a developing story. We're working to gather more details. Check back for more.