Teen files lawsuit, tort claim after school bus assault captured on camera
Caleb Jones claims physical, emotional distress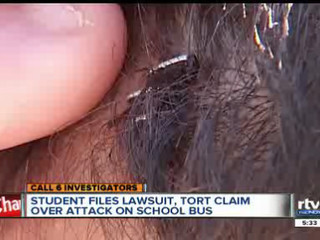 INDIANAPOLIS - A teenage boy is taking action after police say a 15-year-old student assaulted him on a Franklin Township school bus in August.
Caleb Jones, along with his brother Jonathan and his mother, filed a lawsuit on Sept. 26 against the alleged bully and his mother, whom RTV6 is not identifying because he is a juvenile.
The juvenile's mother declined comment on the lawsuit when contacted by the Call 6 Investigators Friday.
Jones also filed a tort claim against the Franklin Township Community School Corporation, dated Oct. 4, saying the school district failed to call emergency personnel even though he was bleeding profusely.
Doctors later had to staple Jones' head.
"As a result of the School Corporation's negligence, Caleb Jones and Jonathan Jones have suffered personal injuries, pain and suffering, permanent injuries, scarring, emotional injuries and future pain and suffering," read the tort claim.
The boys' mother, Lora Hoagland, pulled her sons out of school and now homeschools them.
During the video, you see a bus driver appear briefly before she walks out of frame.
Jones' attorney Chris Wyant told RTV6 the school district didn't do enough to keep Jones and other children safe.
"It sounds as though it were a thing that just kept happening and happening and happening everyday," said Wyant. "Caleb finally stood up for himself and as a result received a pretty bad punishment."
The school corporation did not provide a comment Friday on the tort claim.
Hoagland told RTV6 any monies collected would go to medical expenses or trust accounts for both boys.
The Call 6 Investigators found the school district does not have a written policy for bus drivers on how to handle fights or bullying.
October is National Bullying Prevention Month.
BullySafe Indiana Director Tracie Wells said schools need to be proactive, not reactive, when it comes to bullying.
"It's something schools need to be aware of, with smart phones they are liable for things that happen on their property," said Wells. "They really need to take these reports seriously."
BullySafe recommends training staff from the administrators down to the custodians.
"If a bus driver doesn't know how to identify bullying, they're not really going to be equipped to prevent it," said Wells.