Terre Haute fire truck gets pink paint job for breast cancer awareness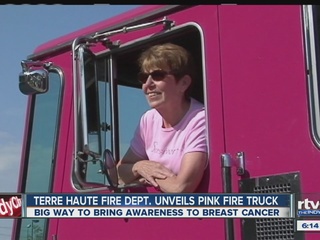 TERRE HAUTE, Ind. - When you think of fire trucks, you'd usually see red. But in Terre Haute, that color is now pink for one truck.
ABC affiliate WAWV-TV reports this week, breast cancer survivors and their supporters gathered at Terre Haute City Hall to reveal the city's new pink fire truck.
The Terre Haute Fire Department is partnering with Susan G. Komen of Wabash Valley to bring awareness to breast cancer in a bigger way than they've ever done before.
Officials said it took more than 500 hours of labor to get the truck painted pink, and was done all on volunteers' dime.
Breast cancer survivors signed the truck. The first survivor to sign was Mayor Duke Bennett's wife, Pam.