Three churches vandalized in Columbus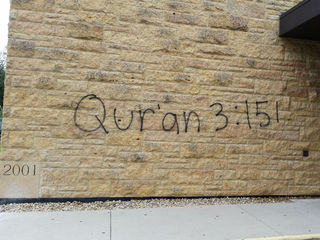 COLUMBUS, Ind. - Columbus police were investigating Sunday after three separate churches were vandalized overnight.
Police said St. Bartholomew Catholic Church, Lakeview Church of Christ and East Columbus Christian Church had been tagged with spray paint.
The graffiti read "Infidels!" and "Qur'an 3:151."
At Lakeview Church of Christ, leaders said they noticed the message spray painted near the building's entrance Sunday morning.
"We just explained that it was graffiti that was kind of anti-Christian, and in today's society it's unfortunate, but it's a reality that we have to deal with," said church elder Terry Lewis.
Surah 3:151 of the Quran reads: "We will cast terror in the hearts of those who disbelieve for what they have associated with Allah of which he had not sent down [any] authority. And their refuge will be the Fire, and wretched is the residence of the wrongdoers."
At St. Bartholomew Catholic Church, the congregation expressed confusion and dismay.
"When someone damages something like that, that's very hurtful to the community and to the church," said parishioner Daniel Bober.
But, Bober said, the church wasn't jumping to any conclusions.
"I would hope it's not terrorists in our small community," he said. "It sounds more like something some children would do who need some constructive recreational activities."
Leaders at Lakeview seemed to take a similar approach.
"It's unfortunately probably done by someone who doesn't really understand what we stand for and the love that we have and that we still have for them, and we hope something will touch their heart," Lewis said.
Police said they do not have any suspects at this time but were checking to see if nearby security cameras captured the acts.
The graffiti had been cleaned off two of the three churches by Monday afternoon.