Then & Now: 1904 & 1963 photographs tell story of old Marion County Courthouse
#ThrowbackThursday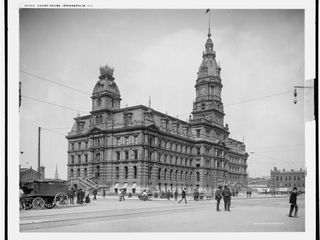 INDIANAPOLIS -- It's a #ThrowbackThursday photograph more than 110 years in the making.
This Thursday for The Now Indy, we dug up a couple photographs of a beautiful structure you can no longer find on the streets of the Circle City.
1904: Marion County Courthouse
It almost looks like a scene out of an old Russian photograph book. But no - it's the Marion County Courthouse circa 1904. You're looking at the southwest corner of North Delaware and East Washington streets more than 110 years ago.
Don't you wish the gorgeous architecture were still around? This one has Tomlinson Hall in artwork. Alas, we discovered the courthouse was later torn down to make way for the plaza of the newly constructed City-County Building.
1963: City-County Building dwarfs old Marion County Courthouse
The current City-County Building in downtown Indy was completed in 1962, just north of the old courthouse. By 1963, crews had begun taking apart the old courthouse, with people pillaging it of anything that wasn't nailed down. It was later razed to the ground.
Current Day: City-County Building plans new-and-improved plaza
Things look quite different in 2015 compared to '63 at the corner of Delaware and Washington. A large plaza now sits where the Marion County Courthouse of yore used to stand. And the city is planning big new things for that plaza, hoping to build a splash park, ice rink, cafe, game area and more outdoor seating.
-----
Follow Lydia Williams on Twitter @LydiaRTV6