Train hits truck carrying pineapples, sending fruit flying near Rural Street and Massachusetts Ave.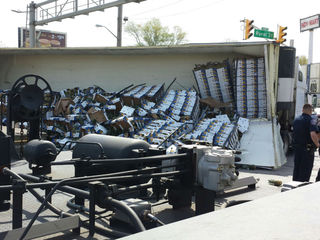 INDIANAPOLIS - A train collided with a truck in Indianapolis, resulting in a spill of fruit boxes all over the area.
Indianapolis police (IMPD) responded to the crash at roughly 10:30 a.m. in the area of North Rural Street and Massachusetts Avenue, on the city's east side. (See map below.)
A train hit a truck in that area, and the truck was carrying boxes of pineapples. The truck driver said he tried to make a left turn but got stuck on the track just before the crossing arms lowered. Boxes of fruit that had spilled all over the road had to be cleaned up after the crash. IMPD and Indiana State Police said the intersection was expected to be shut down for several hours.
No injuries were reported.
Avoid the area if possible.
Watch RTV6 and check back here for updates.
Can't see our map? Tap or click here.