Trooper lets daughter decide whether or not to give speeding ticket
And she decides in favor of the trooper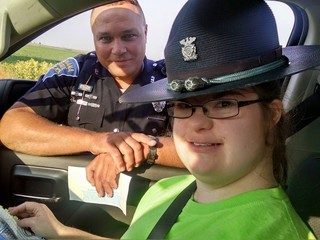 A father pulled over for speeding was put at the mercy of his daughter for whether he was going to receive a ticket or not, thanks to a generous Indiana State Police Trooper.
Trooper Darrick Scott made passenger Ashley Ellrich a state trooper for five minutes after a traffic stop on I-65 Saturday. Scott gave Ellrich the choice of whether to issue her father, the driver, a warning or a speeding ticket.
And Ellrich was on the trooper's side; she said ticket.
Fortunately for her father, the officer was feeling generous enough to not only make his daughter a temporary trooper, but to also only issue a warning.
Make sure to watch our video in the player above to hear firsthand from that trooper about the experience, and what one thing surprised him the most of all.
The father, Dwayne Ellrich, shared the incident via Facebook, and has since picked up hundreds of likes and shares.
In the post, Dwayne reminds everyone to slow down, but also added that "There are some great cops out there."
Indiana State Police picked up the post, saying that they are "are extra glad that Ashley is on our side!"
-------
Download the free RTV6 app to get the latest news on the go and receive alerts to your phone
Sign up to have the latest news headlines delivered straight to your email inbox