Record crowd attends Carmel Fest Parade
Organizers estimate nearly 50k in attendance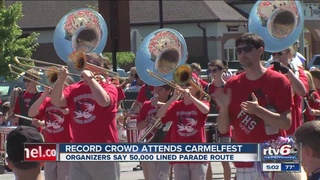 CARMEL, Ind. - A record crowd attended the annual Carmel Fest Fourth of July Parade this year, with nearly 50,000 people showing up for the event.
Two days before the parade, families started setting up lawn chairs along the route to stake out spots.
"This is a great place to be around everyone and to celebrate our country," one family told us. "It's a great place to hang out."
Among the usual faces at the parade were Governor Mike Pence and First Lady Karen Pence. The Indy Eleven soccer team also joined in the fun.
The theme for this year's parade was "Spirit of America." Carmel Fest Chairman Jeff Worrell said he found it fitting.
"What I hope it means is that we are passing on a sense of patriotism and community spirit to the generations that are coming, to people my age, older, younger, so they can remember a hometown very warm," Worrell said. "Just a good feeling celebration."
The Carmel Symphony Orchestra was scheduled to perform before a fireworks show, scheduled to begin at 9:45 p.m. The festival runs until 10:30 p.m.
More information at www.carmelfest.net.