What's next for Jared Fogle?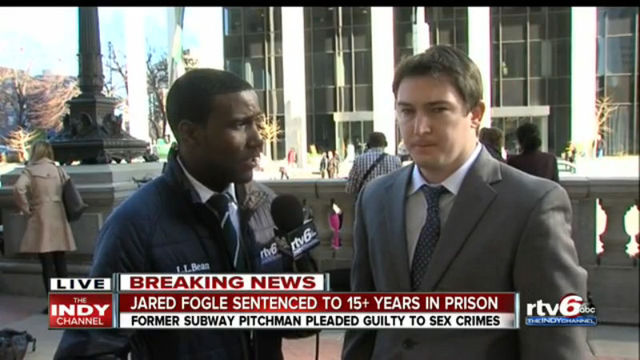 INDIANAPOLIS -- Former Subway pitchman Jared Fogle will spend more than 15 years in prison for possession of child pornography and traveling across state lines to have sex with minors.
Fogle pleaded guilty to two felony counts Thursday in U.S. district court in Indianapolis. He'd been on home detention for months following an FBI raid on his Zionsville home in July.
Fogle's lawyers will have 14 days to file an appeal regarding the judge's sentence.
Jared Fogle's legal team has 14 days to appeal the judge's decision. She sentenced him to 15+ yrs, though Govt wanted 12.5 yrs. .@rtv6

— Rafael Sánchez (@RafaelOnTV) November 19, 2015
Federal prosecutors agreed to ask for no more than 12.5 years in prison for Fogle as part of a plea deal. His lawyers in turned asked for no less than five.
RELATED | Jared Fogle, ex-Subway spokesperson, sentenced to more than 15 years for sex with minors, child porn
Fogle is currently in custody at a facility in Kentucky until he is assigned to a federal prison.
His attorneys requested he be placed in the federal penitentiary in Littleton, Colorado, to participate in a sex offender treatment program. His therapist is also in Colorado.
Fogle was also ordered to pay a $175,000 fine to go into a fund to help support victims unrelated to the case.
That fine is in addition to the $1.4 million that will be split among the 14 victims. Of the 14, three have yet to receive their money.
READ: Jared Fogle's full statement at his sentencing
Fogle is taking medication to curb his sexual disorder. He has also paid $7 million to his wife who is seek a divorce.
Call 6 confirms Fogle had corrective eye surgery while in Colorado so he would not need glasses while in prison.
New: Jared Fogle had corrective eye surgery to rid his eyeglasses before being sent to federal prison. .@rtv6 pic.twitter.com/PpzXccTkZK

— Rafael Sánchez (@RafaelOnTV) November 19, 2015
His lawyers are preparing to challenge civil lawsuits now that the criminal case is over.
----
Download the free RTV6 app to get the latest news on the go and receive alerts to your phone
Sign up to have the latest news headlines delivered straight to your email inbox