White House joins list of RFRA critics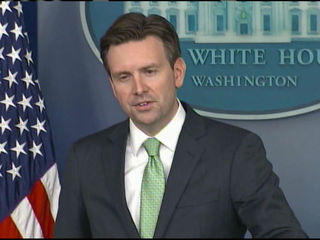 WASHINGTON - The White House joined a growing list on Friday of critics of Indiana's new religious freedom law.
In response to questions from reporters at a press conference, White House Press Secretary Josh Earnest said the administration didn't think the law was "a step in the direction of equality and justice."
Watch Earnest's response in the video player above.
Read the full statement below:
"I have seen that there are a number of private businesses and non-profit organizations that have said that this law prompts them to reconsider doing business in the state of Indiana. Including the NCAA, that isn't just hosting the Final Four in Indianapolis, but has their headquarters in Indianapolis.

Some of those businesses having conventions in Indiana have raised concerns about whether all of their employees can count on being treated fairly in Indiana. I think that is a testament to the kind of reaction I think a lot of people all across the country had, which is that the signing of this bill certainly doesn't seem like a step in the direction of equality and justice and liberty for all Americans.

That's not just the view of the administration. I know it's the view of the Republican mayor of Indianapolis and a whole host of non-profit and private sector companies who have legitimate concerns about the impact of this legislation."
READ MORE:
Pence signs religious freedom bill into law
Mystery surrounds attendees at SB 101 signing
Lawmakers unlikely to care about recall petition