Biden, Ryan, guffaw, roll eyes, dismiss each other during VP debate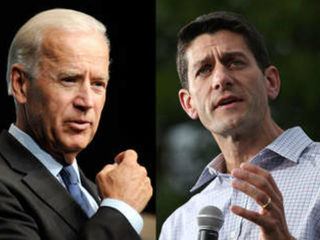 DANVILLE, Ky. - They never called each other liars at their first and only debate, but Vice President Joe Biden and Republican Paul Ryan deployed a wide array of body language to signal the other guy wasn't being straight.
The eye-rolling, interruptions and head-shaking served as a sort of real-time fact-checking, and at times both candidates appeared to talk down to each other.
Biden was the king of the guffaw and the "can-you-believe-this-guy" grin when Ryan talked about Medicare and taxes.
"It's malarkey," Biden said at one point, even as he continued to address Ryan in the third person by calling him "my friend." At one point when Ryan mentioned slain president John Kennedy, Biden cracked sarcastically, "Oh, now you're Jack Kennedy?"
And when Biden became animated, Ryan raised his eyebrows and smiled in amusement, as one might at a quirky uncle.
"I know you're under a lot of duress to make up for lost ground," Ryan counseled his older rival, an apparent reference to President Barack Obama's performance a week earlier against the more animated Romney. "But I think people would be better served if we don't interrupt each other."
It never happened. Both continued to do so, and they interrupted moderator Martha Raddatz of ABC News as well.
--------------------------------
At last week's presidential debate, Obama didn't mention GOP nominee Mitt Romney's videotaped remarks that 47 percent of Americans are dependent on the government. On Thursday, Biden seemed to weave the remark in whenever he could.
During the debate's first exchange on the economy, Biden called Romney, "a guy who says 47 percent of the American people are unwilling to take responsibility for their own lives."
Biden then grew emotional as he talked about the remark.
"These people are my mom and dad -- the people I grew up with, my neighbors. They pay more effective tax than Governor Romney pays in his federal income tax. They are elderly people who in fact are living off of Social Security. They are veterans and people fighting in Afghanistan right now who are, quote, 'not paying any tax.'"
Biden brought Romney's 47 percent comment up at least twice more, including in his closing statement, when he acknowledged having gotten frustrated.
----------------------------
Biden and Ryan each reflected on the role of Catholicism on their lives - and their views on abortion - after debate moderator Martha Raddatz asked the candidates about their faith. Both men said Catholicism informs who they are as men.
Ryan said his faith teaches him "how to take care of the vulnerable." He said his faith is a factor in his views on abortion, but said his opposition to abortion is not based solely on his religious beliefs. He said that was also based on his view that life begins at conception.
Biden said Catholicism has similar important role in his life, teaching him to take care of people who "can't take care of themselves, people who need help." He said he respects the church's opposition to abortion and he personally follows church doctrine. But he said he refuses to impose the church's judgment.
--------------------------
The deadly attack on the U.S. Consulate in Benghazi, Libya was a major source of conflict. Asked by Raddatz why the administration changed its story from there being protests at the embassy to a terrorist attack, Biden explained that intelligence officials had changed their view of the source of the violence. He also said the administration didn't know that Americans there had asked for more security.
And he faulted Ryan and Romney for launching political attacks before they knew all the facts, but vowed to bring those responsible for the attacks to justice.
"Wherever the facts lead us, wherever they lead us, we will make clear to the American public, because whatever mistakes were made will not be made again," Biden said.
Ryan called the tragedy indicative of Obama's unraveling foreign policy. His sentiments echoed those of fellow Republicans who called the Obama administration to task Wednesday in a politically charged House hearing probing the insufficient security at the consulate.
"If we're hit by terrorists we're going to call it for what it is: a terrorist attack," the congressman said.