TIMELINE: Brian Kil Plainfield threats investigation
A look at the timeline of the threats and extortion surrounding Brian Kil and Plainfield.
Early morning Thursday, December 17, 2015: A Facebook page titled "Brian Kil" makes threats against Plainfield High School, saying he wants to "leave a trail of death and fire". He claimed to have three pipe bombs, two handguns and a semi automatic rifle. He posted multiple images of a young girl in various states of undress, saying he was targeting her, but would kill others, too, including police.
MORE: http://bit.ly/22bAYOq
Thursday, December 17, 2015 - Plainfield cancels all classes at its schools and starts Christmas break early as the threats continue. Brian Kil taunts police by tagging their accounts from his Facebook page. He said he would turn himself in if he received a public "apology" from the young female he originally posted about.
MORE: http://bit.ly/22bAYOq
Friday, December 18, 2015 - Brian Kil posts "they can't close school every day" in a new threat. He also tagged the FBI's Facebook page and said they "cannot protect you forever."
The same person makes threats against The Shops at Perry Crossing at 9 p.m. Police responded and evacuated the mall, clearing it of any danger at 1 a.m.
Plainfield High School also postpones its planned boy's basketball home game.
MORE: http://bit.ly/1T7K5cP
Sunday, December 20, 2015 - More threats are made against Plainfield retail shops by the same Brian Kil account, saying there would be "casualties," claiming to be armed with handguns, a knife and bombs. The post continued to target a young girl as the reason for his desire to kill and to taunt authorities for not being able to catch him. Plainfield police said at 6 p.m. they were made aware of new threats issued by the same person who had been making threats for four days on Facebook.
MORE: http://bit.ly/1OFaueo
Monday, December 21, 2015 - Police ask anyone with information on Brian Kil's threats to call them with tips, after being flooded with Facebook messages about the case. "We won't quit until it's over," said Captain Jill Lees of the Plainfield Police Department. "We definitely want to find closure to this and return to business as usual." http://bit.ly/2uiOwzK
Monday, January 4, 2016 -- Plainfield schools re-open with extra officers stationed at the schools, but many parents keep their kids home, despite the new security measures with no arrests over the threats, despite a new one having been made the weekend before school started back up. The new threat was posted overnight Saturday, saying Brian Kil would shoot anyone in the school: http://bit.ly/2ujbiYe
Tuesday, January 5, 2016 - A raid is conducted connected to the Brian Kil threats in Plainfield by the U.S. Attorney's Office and FBI, but no charges are filed. http://bit.ly/1Ra2iJt
Tuesday, January 19, 2016 - Plainfield residents meet to discuss the Brian Kil threats with police. The meeting is empassioned, but derailed when a man was caught bringing a gun into the meeting. He said he brought it so he could feel "safe".
According to court documents, the man behind the Brian Kil threats extorted a second victim into attending this meeting so he knew what was said. He posted several more threats following the meeting: http://bit.ly/2vIuRcM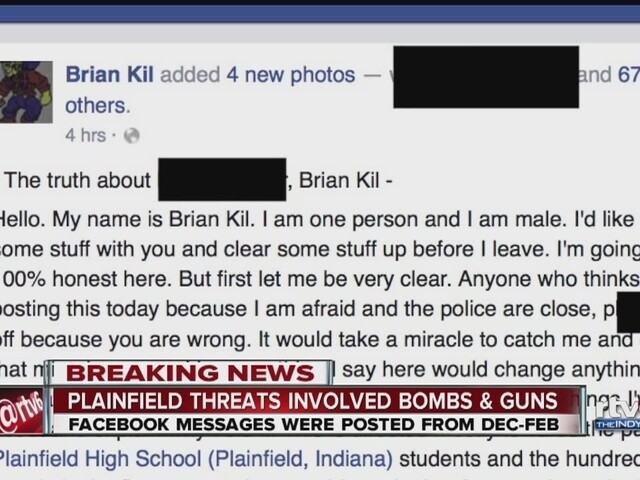 Thursday, February 4, 2016 - Brian Kil resurfaces, saying everything was a hoax. He says all of the threats were fake and that he never once considered carrying them out. He also taunts the police saying the case will never be solved and that he lives an ocean away: http://bit.ly/1K2ECoj
May 21, 2016 - Brian Kil communicates with the female victim he was extorting at the center of his threats to Plainfield, saying he would released videos of her on Facebook.
Friday, June 9, 2017 -- FBI agents interviewed a third victim of Kil's from Michigan, who had been extorted for images since 2012, according to court documents, including on this day. Law enforcement executes the use of a NIT, a technique to obtain Brian Kil's real IP address through one of the victim's images. The FBI requested an emergency subpoena and identified the true location of where Brian Kil was posting from in Bakersfield, California: http://bit.ly/2ujktI0
Wednesday, July 19, 2017 -- Law enforcement installs a camera near the residence and captures Buster Hernandez, 26, on video coming to and from the residence, who they allege is behind the Brian Kil threats: http://bit.ly/2ujktI0
Photo by: Cox, Katie
Monday, August 7, 2017 - 600 days after the first threats were made, the U.S. Attorney's Office announces the arrest of Buster Hernandez for the sextortion of three victims and threats against Plainfield High School and retail stores: http://bit.ly/2ujktI0