Trooper: Witnesses Were Amazed I Emerged From Wreck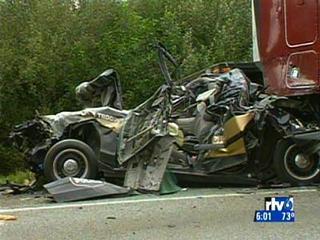 Resting in a hospital Wednesday, Indiana State Police Sgt. Rich Kelly said he was in better shape than he thought he was going to be after a crash on Interstate 65 this week.The crash's witnesses might think so, too. Kelly had pulled over a tractor-trailer on I-65 in Clinton County and was doing paperwork in his squad car Tuesday afternoon when a second tractor-trailer slammed into the back of the car, crumpling it into the first truck.To the amazement of witnesses, Kelly -- though hurt and bleeding -- got himself out of the wreckage. He emerged while spitting out a mouthful of glass and trying to clear debris from his eyes."I came out of my car, and I could see the look on the people's faces that were outside the car. I could see that they were pretty much shocked that I was coming out," Kelly told
6News' Norman Cox
in his room in Lafayette's Home Hospital, which released the trooper hours after the interview.Kelly would learn after the wreck that he had a broken vertebra along with many cuts and bruises. But in the moments following the crash, he said Wednesday, he didn't know whether he would survive. He was bleeding from his head."I thought that there was a high probability" of dying, Kelly said.Kelly recalled the moments preceding the crash, saying he had no time to react to the approaching truck. He said he was typing on a laptop computer when he heard what turned out to be the tractor-trailer.
A mangled mess was made of Sgt. Rich Kelly's car, making it hard to imagine how he escaped.
"(I asked myself,) 'What is that noise?' And the next thing I know, I mean, it was dashboard and airbag and metal and glass," Kelly said.Kelly's wife, LeAnn Kelly, said she saw pictures of the wreck after visiting her husband in the hospital. She said she believes his survival was a miracle."I've seen a lot of accidents. I've seen a lot of photos. I have never seen anything that bad and seen anyone walk away from it," she said.Police said the trucker that hit Rich Kelly's car did not obey the state's move-over law, which requires vehicles to slow down and move a lane away to give police officers room to work.No arrests were immediately made after the crash. Police said an investigation could take weeks to complete.Rich Kelly, who said he loves his job and doesn't believe he'll have a problem with returning to road patrols, said he isn't sure whether his survival was miraculous."There was enough room to live in that car, and for whatever reason, I was given that much room. I would say that probably that it is a slight miracle," he said.
Previous Stories: