Vice President Joe Biden, Rep. Paul Ryan prepare for first, only vice presidential debate
Analysts: Stakes remain high in first, only debate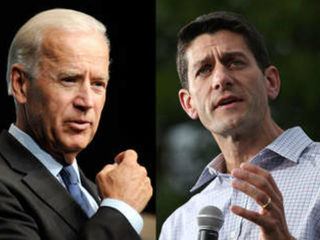 INDIANAPOLIS - Time running short, Vice President Joe Biden faces the greater burden in his debate with Republican Paul Ryan Thursday as he seeks to use the election's only encounter between presidential running mates to slow Mitt Romney's momentum and reset the campaign storyline in time for the next Obama-Romney debate.
In the aftermath of President Barack Obama's startlingly lackluster showing against Romney in last week's debate, Biden's job is to forcefully confront Ryan, and by extension Romney, while making a case for Obama's policies that strikes an emotional chord with voters.
Thursday's debate comes at a volatile moment in the election, putting the contrasting political skills of Biden and Ryan on display for millions of viewers less than four weeks before Election Day.
Favoring Obama and Biden, new unemployment numbers last week showed a drop in joblessness. On the other hand, the administration has been placed on the defensive by conflicting accounts of the events that led to a deadly attack on the U.S. Consulate in Benghazi, Libya, last month.
The debate also comes just two days after Romney said he would not pursue any abortion-related legislation if elected president. Romney's campaign sought to clarify Romney's remarks, saying without elaborating that he would support legislation aimed at providing greater protections for life.
The encounter pits Biden, a 69-year-old veteran politician, against a rising 42-year-old up-and-comer.
Meanwhile, Hoosiers weighed in on how Thursday's debate could sway the election to either party's favor.
"I'm watching the debate just to see what will come out of it to make sure I vote for the right person," voter Patty Morris said.
"I'm worried about my grandchildren. What is this country going to look like when they grow up?" voter William Patterson said.
Other Hoosiers said they hope the candidates go into detail on the hot topic issues.
"I want them to talk about the economy. That's the biggest topic to me," voter Derrick Johnson said.
"I want to hear (Ryan) talk about how the Republicans are going to reduce taxes and yet not cut any services," another voter said.
Political analysts said that Biden and Ryan are expected to try to strike an emotional chord with voters.
The debate will be broadcast live at 9 p.m., from Centre College in Danville, Ky.