Colts Superfan Michael Hopson unmasked
Man's fandom eclipses all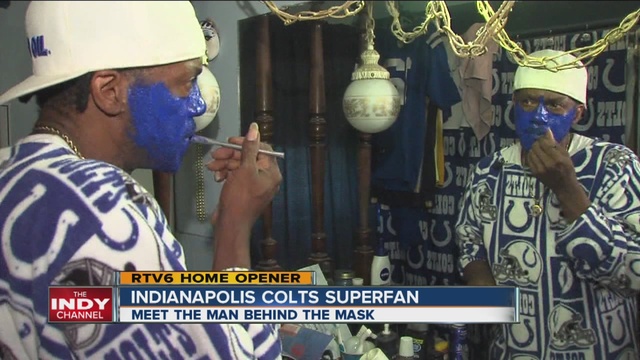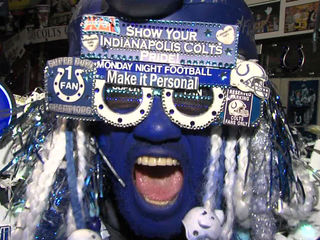 INDIANAPOLIS - If you follow the Indianapolis Colts, you're probably familiar with Michael Hopson, better known as Superfan, but you haven't seen the depth of his dedication.
He's at just about every Colts rally and game. Unmasked, Hopson carries the Superfan moniker well.
GALLERY: Behind the mask and inside the home of the Colts Superfan
At the game, he's the crazy-looking guy in a homemade costume, working up a sweat trying to inspire other fans.
Behind the mask, he's still a fan like no other.
"I'm a comic nut. That's how it got started, Superman, Batman, Star Trek," Hopson said.
Hopson started going Colts crazy in the late 1980s, building a persona with parts and pieces.
"I used stuff from everybody. I just splashed it, dashed it, smashed it, crashed it," he said. "I just put it all together and came up with some blue. That's all it is, wild and crazy but not lazy."
In the early years, Hopson called himself "the No. 1 Colts fan" until others started taking notice.
"Everybody called me blue guy, Colts man or super this and they said, 'thinking we should call you Superfan,' and I said, 'Hmmm, I like that.'"
That's when the transformation began in his life and in his home, with an extensive collection of Colts memorabilia to go along with Indiana Pacers, Indiana Fever and Indianapolis 500 collections.
"If I'm just walking and I see something that can go in my repertoire, I get it," Hopson said.
A room filled with Colts gear may seem like a man cave, but it's actually his living room, covered from ceiling to floor with memorabilia and what Hopson calls Colts crafts.
"Like these airplanes -- I put Colts stuff on them and create my own Colts stuff," he said.
From figurines to footballs, to posters and other prized possessions, Hopson's room recounts the team's success throughout the years.
The collection includes Gary Brackett gear, an early picture with Peyton Manning when he first arrived in Indy.
"It's a good feeling, especially when little kids come up and ask you to sign their football or their shirt," Hopson said.
Though Hopson said he isn't paid and he buys his own season tickets, he gets back more than he gives.
"It's the joyous part of my life. It's making people smile and affecting people in a good, positive way," he said.
Not many people can say they have a cardboard cutout of themselves in their living room.
"So, I am that guy. As long as you see Superfan, Superfan Colts, I'm the real deal like Holyfield, bam, bam, bam," he said. "It's just cram, jam and slam. It's just me, the way I can be."
The minute the full costume and mask are on, Hopson takes on a new persona.
"Whooo. Yeah, baby. It's rally time," he exclaimed.
Hopson has separate costumes designed for Pacers and Fever games and another he designed specifically for the Indianapolis 500.
Hopson works stocking shelves at a Kroger in Speedway.