Pacers optimistic, fans pessimistic after George's leg injury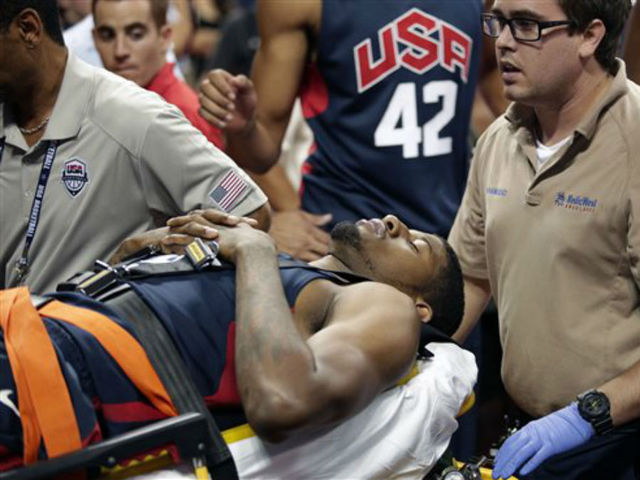 INDIANAPOLIS - Indiana Pacers player Paul George has started the long road to recovery after a devastating compound fracture to his leg last week. George's injury dominated the conversation on sports talk radio Monday.
Callers were pessimistic about the impact George's injury will have on the Pacers this season. Some called this season over -- months before it even begins.
MORE: George suffers serious leg injury in US exhibition
"This is not going to be a good basketball team. You lose a guy like Paul. You already lost Lance then you lose a guy like Paul and there goes your explosiveness on the roster," radio host Michael Grady said.
Even quarterback Joe Theismann -- who suffered a similar stomach-turning injury -- called in to The Grady and Big Joe Show to weigh in on George's compound fracture.
"It was as close an injury to the one I had that I'd ever seen," Theismann said. "My heart went out to him. I know what the road's going to be like ahead of him. The great thing that he has going for him is that science and technology and rehabilitation today is so much more advanced than it was 30 years ago when I got hurt. And I think he's gonna be back. I think the Indiana Pacers fans can look to 2016 probably and see the same great Paul George that they've seen."
A team spokesman said season ticket renewals have been strong. And although the rest of the tickets are not yet on sale, the team is optimistic fans will keep coming and will rally around their Pacers -- despite losing their leading scorer.
"This is a temporary setback, but we'll emerge from it stronger than ever," Pacers spokesman Bill Benner said. "I tell you, the initial feedback that we've received over the weekend from our sponsors, from season ticket holders and from the fans in general both calling us and through social media has been overwhelming. People seem to want to recognize that this is the time to rally and get behind the team. So we're moving forward. We're very hopeful that we'll still have a very, very competitive basketball team."
The team's final schedule should be released sometime next week. After that, mini season-ticket packages and single-game tickets will go on sale.
Sources confirmed all of George's rehabilitation will take place in Indianapolis, but no timeline has been released.
Follow Tanya Spencer on Twitter: @tanyaspencer6 | Facebook: Tanya Spencer