Indianapolis, IN

Daily Forecast
Weather Navigation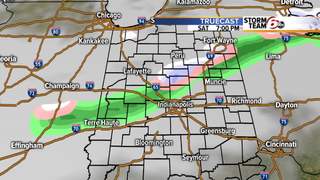 Today will be a quiet but very chilly day across the area. Skies will be mostly cloudy with a bit of a breeze with temperatures topping off only in the upper 30s.
However, with the lack of sunshine and the breeze it will feel even cooler than that. Keep in mind that our normal high is still in the low 50s. Today will be the 9th below normal day in a row.
Looking ahead to the weekend another weak system will impact the area. Most of Saturday will be dry with mostly cloudy skies and temperatures around 40 degrees. However, late Saturday into early Sunday some drizzle/light snow showers will develop. Could be a quick coating in northern locations but otherwise not expected too much of an impact with the exception of it being an inconvenience.
Read full story