Damaging winds, hail, tornadoes possible in Indiana storms
Severe weather threat increases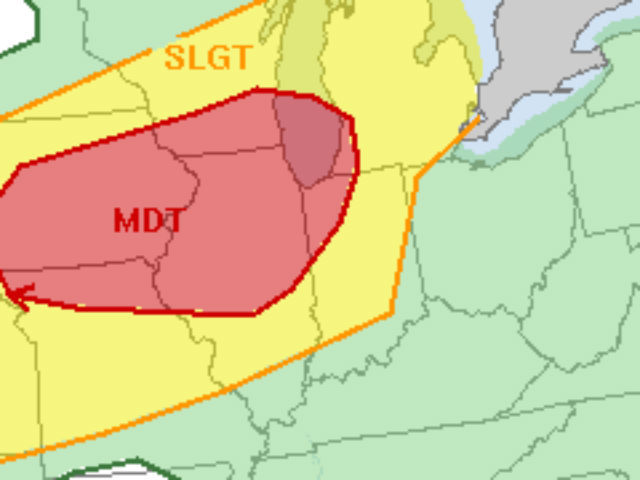 INDIANAPOLIS - Damaging winds, large hail and tornadoes -- they are all possible Monday as a strong storm system nears Indiana.
Most of is in a slight risk zone for severe weather, with portions of northwestern Indiana at moderate risk for severe weather.
Special Sale: Storm Shield for iPhone | Android
Storm Tracker Radar | Interactive Radar
A strong storm system responsible for several tornadoes in the Midwest on Sunday is slowly moving east.
Indiana is on the eastern edge of the severe weather potential on Monday, with the northern half of Illinois in a moderate risk zone.
There is potential for significant wind damage in Illinois, and Indiana will inherit at least a couple of waves of storms on Monday and into early Tuesday morning.
A line of storms that pushed through much of northern and central Indiana packed a lot of lightning and heavy rain, but there were no severe weather warnings.
However, storms that form during the late afternoon and evening could quickly become severe.
"These storms will have the potential to bring severe weather to the area with wind and hail being the main threats," said StormTeam 6 meteorologist Todd Klaassen.
Storms will also be possible on Tuesday, but the severe weather threat is expected to be lower.
A much calmer weather pattern will settle into the region for the second half of the week.
Stay with StormTeam 6, TheIndyChannel.com and our RTV6 and Storm Shield apps for the latest severe weather information.