Light snow on the way to central Indiana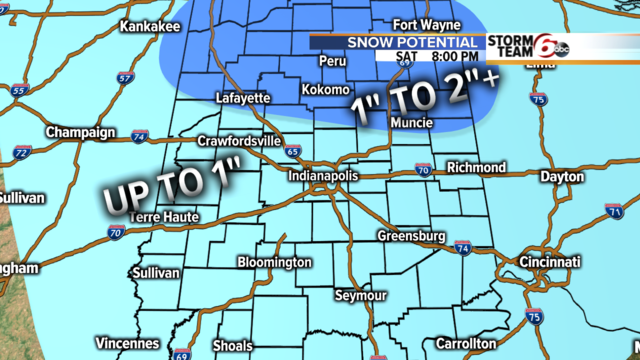 INDIANAPOLIS -- It's been nearly nine full months since we've had snow on the ground across central Indiana. While we aren't expecting a lot of snow, a quick moving system will bring an end to that stretch this weekend.
Snow showers are expected to enter NW Indiana during the early morning hours Saturday. By 7 a.m., the leading edge of the snow should spread near a line from Bloomington to Indy to Muncie.
Far eastern Indiana will get in on snow showers by mid to late morning. Some bursts of moderate snow may limit visibility. With our recent cold snap, the light, fluffy snow should stick pretty quickly. A break in the snow comes by the middle of the day. For many, that will also be the end of the snow.
FORECAST | Check the latest weather forecast
For much of central Indiana, snow totals are expected to come in at less than 1". For Indianapolis and surrounding areas, about a half to 1" of snow is possible, with lower amounts as you head south and west.
Saturday afternoon, lake effect snow kicks in across areas mainly north and east of Indianapolis. This will beef up totals on the order of 1-2" near and north of a Lafayette to Muncie line. Where the heavier bands set up, we can't rule out an isolated 3" amount.