ALERT: Periods of rain, with some T-storms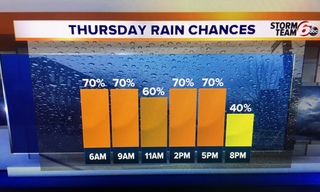 ALERT: Periods of rain today with a few thunderstorms as well. A couple storms this afternoon could be strong to severe.
Rain gear is needed once again today from start to finish as waves of rain will move through from time to time. It won't be raining at all times today but showers could flare up and move through at any time. As far severe storms, the best chance of that would be in the afternoon and evening during the peak heating of the day. Overall though the main threat for most of us would be localized flooding.
Temperatures today won't do much with highs only in the upper 70s for most of us.
Rain chances will still be present tomorrow but the rain won't be as widespread as yesterday or today. None the less have the rain gear hand once again for your Friday. Saturday is when we really start to work more in the way of sunshine back into the forecast. With the sunshine and just a spot storm chance highs will climb back into the low 80s.
Sunday is the better day of the weekend because it is sunny and it is dry. Temperatures will be back in the mid 80s.
Looking ahead to next week as cold front brings more rain on Tuesday followed by cooler temperatures by the middle of next week with highs only in the 70s.
Sunrise: 6:58 AM Sunset: 8:40 PM
Today: Periods of rain – Spot Strong Storms… 79
Overnight: Spotty Showers… 70
Friday: Mostly Cloudy – Spot Shower… 82
Saturday: Partly Cloudy – Stray Storm… 83
Sunday: Mostly Sunny… 85
Monday: Partly Cloudy – Spot Storm… 83