Cold tonight. Eye on Saturday snow.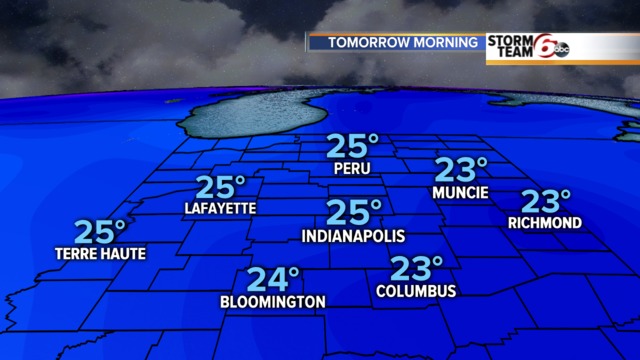 HEADLINES
…COLD TEMPS TONIGHT
…WARMER TOMORROW
…WINTRY MIX FRIDAY NIGHT/SATURDAY
For now, we've put the snow in our rear-view mirror. Notice I said for now. Friday night and Saturday we will once again have a wintry mix to deal with across Central Indiana. Light accumulating snow is possible.
Skies will clear tonight. With our fresh snow cover and relatively light wind, overnight low temps will tumble into the lower to middle 20s.
Thursday and most of Friday will be quiet days of weather with plenty of sunshine and highs in the mid to upper 40s.
Overnight Friday night into Saturday morning the next weather system arrives. Accumulating snow is once again in play. Temps will hover around the freezing mark Saturday morning. The melting begins by late morning as high temps will recover to around 40 degrees. Snow would transition to rain.
Sunday will be the more enjoyable day of the weekend.
Thursday: Sunrise: 7:45 AM Sunset: 7:59 PM
Tonight: Mostly Clear and Cold. Low: 27
Thursday: Dry with some Sunshine. High: 46
Friday: Partly Cloudy. High: 47
Saturday: Morning Snow changing to Rain. High: 41
Sunday: Partly Sunny. High: 45