SUV slides off overpass and hits another SUV on I-65 in Jackson County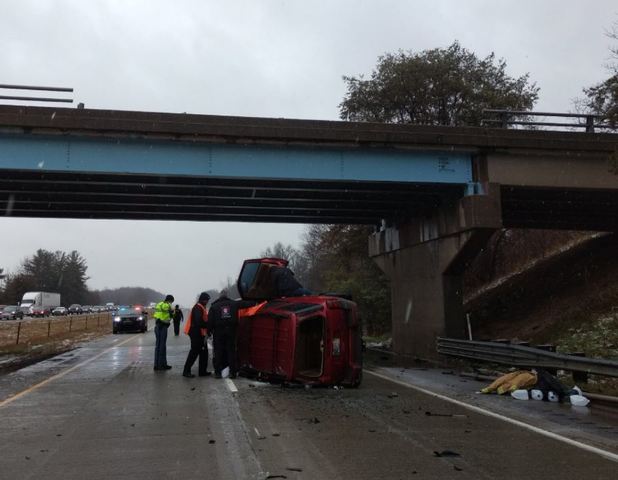 JACKSON COUNTY, Ind. -- A SUV went off an overpass in Jackson County Saturday afternoon and hit another SUV on I-65 below.
Indiana State Police say a 2002 Chevy Trailblazer, driven by Richard Coulter, 37, of Austin, Indiana, was headed west on County Road 600 South on an overpass over I-65.
Troopers say Coulter lost control of the SUV on the ice-covered road. It broke through a metal guardrail on the south side of the road and fell onto the northbound lanes of I-65.
Coulter's vehicle struck a red 2014 Toyota SUV, driven by Charles Jahnke, age 56, of Green Bay, Wisconsin.
Coulter had to be extricated from the Chevy Trailblazer and was taken to an Indianapolis area hospital with critical injuries. Jahnke was not injured.
State police say road conditions are believed to be a factor in the crash.
The northbound lanes of I-65 were shut down for nearly two hours for crash investigation and cleanup.
The Indiana Department of Transportation also had a bridge inspector inspect the overpass before the roadway was opened.
I'm on scene of the crash that originally occurred on County Road 600 South in Jackson County. Vehicle crashed through guardrail and fell onto Northbound lanes of I-65 at 37.5 mm, striking a second vehicle. The lone driver of the vehicle that fell was injured and taken to ER. pic.twitter.com/LcEX2eCQsT

— Sgt. Stephen Wheeles (@ISPVersailles) March 24, 2018
MORE TOP STORIES | Woman hospitalized with foot infection days after getting pedicure at Noblesville spa | Deputy Jacob Pickett's K-9 stops alone at his casket, wags his tail to honor his fallen partner | Missing Westfield woman's body found in car pulled from retention pond | Indiana legislative session descends into chaos on final day | Woman arrested on neglect charges after kids found in bad conditions
Top Trending Videos