12 prison service dogs placed with new handlers
ICAN program going since 2001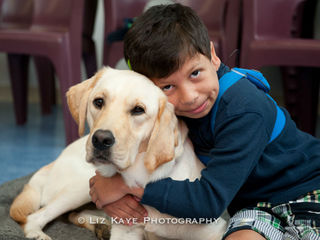 INDIANAPOLIS - Twelve people with special needs each got a new service dog last Thursday thanks in part to offenders at Indiana Women's Prison.
In partnership with Indiana Canine Assistant Network (ICAN), women at the prison lived with and trained the service dogs for months leading up to last week's graduation ceremony.
"It's a bittersweet day, to say the least," one trainer said. "We are passing on our best friend to one in need."
Each dog was placed with a new client living with a disability, including autism, cerebral palsy, multiple sclerosis, seizures, spinal cord injury and heart disease
During the graduation ceremony, which happens twice a year at the prison, the handler who trained the dog was on stage to transfer the companion to their new handler.
The ICAN program has been running since 2001.
Handlers who complete 3,600 hours of dog training receive a Certificate of Completion of Apprenticeship with the U.S. Department of Labor in Service Dog Training.