INDIANAPOLIS -- Friday is #NationalDoughnutDay, the staff at RTV6 put their heads together to pick the best doughnut spots around Indianapolis. We didn't put any restrictions on location or reason for loving the doughnuts.
Long's Bakery was the clear No. 1 choice, but there were some controversies attached to it. HR business partner Cheryl Robb said the location on Indy's south side, but administrative assistant Deja Bullock said the west side location is best.
"If you go in the morning, they are hot and melt in your mouth," Bullock said. "I also love the old, nostalgic feeling you get while standing in the line and waiting for them to ask who's next."
In what will definitely rile up Long's Bakery (and doughnut) fans everywhere, producer Ray Steele said they were "overrated." Please direct all feedback directly to Ray .
In other doughnut location news, engineer Mark Flesner said Rise 'n Roll Bakery in Greenwood was his favorite. The caramel cinnamon powdered doughnuts are "addictive," Flesner said.
Producer Haleigh Hoffman makes the trip up to SoBro for The Dancing Donut , her favorite spot in central Indiana. She said the staff are friendly and the doughnuts have clever names!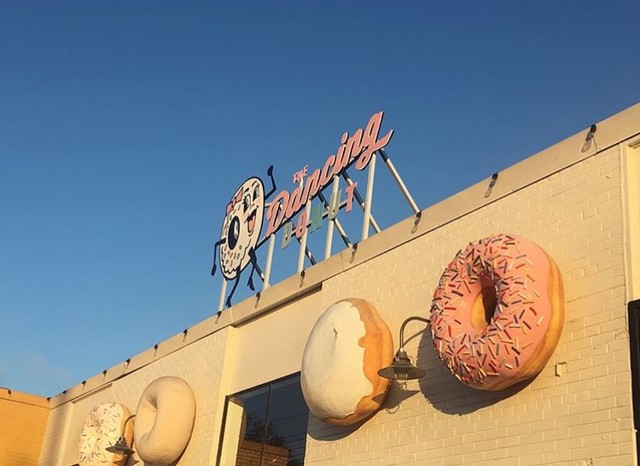 Photojournalist Brad Forestal said Quack Daddy Donuts in Pendleton gets his vote. He said they have unique flavors, and he would know. He worked on a Six in the City story about the shop with Ericka Flye. Quack Daddy Donuts has toppings like bacon, Fruity Pebbles, and Reese's Pieces.
Traffic Assistant Valerie Dillman picked Dan's Donuts in Kokomo . "Everybody's hometown place is the best!" she said.
Digital sales manager Andrew Worthington picked Taylor's Bakery in Eastwood. While waiting for your sweet treat, you can sample a doughnut hole, and it's been around for more than 100 years!
Assistant director of creative services Lindsay Bledsoe worked at a Tom's Donuts in Angola, Indiana when she was 13, so it holds a special place in her heart.
"It's located on Lake James, Indiana and on Sunday mornings, the line wraps around the block with people waiting for hot, fresh, tasty donuts," Bledsoe said.
What's your favorite place to get donuts? Leave a comment on our Facebook page.
MORE TOP STORIES |   Teacher, student wounded when another student opened fire at Noblesville middle school  | Science teacher Jason Seaman being called a hero for stopping school shooter  | Woman can't get DirecTV to cancel service | Four Indiana dog breeders on list of 'Horrible Hundred' puppy mills | CALL 6: Tainted diesel from Kroger gas station in Lebanon damages multiple vehicles
Top Trending Videos